Getting Your Honda Wheels Aligned in Charlotte
There are many different maintenance appointments that you'll need to keep your Honda in its best condition for years to come. One service that you will need is a wheel alignment. This service lets you keep the best control of your Honda, making sure every car, truck, and SUV will perform its best throughout your time of ownership.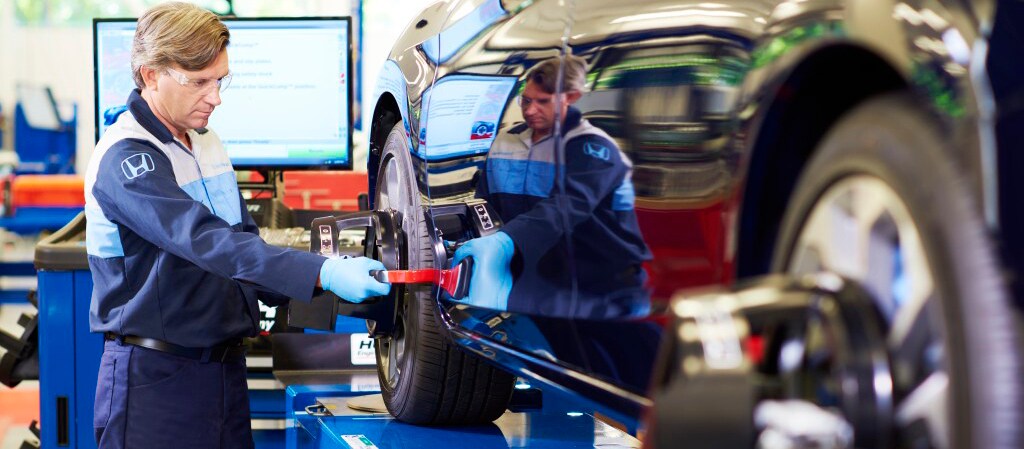 The Benefits of Regularly Scheduled Wheel Alignments
Getting your tires aligned will help in a variety of ways, which helps the overall performance of your vehicle. Our experts are here to help you benefit from this Honda service appointment, which include:
Better handling
Increased fuel efficiency
Longer lifespan for your tires
Tire alignments are recommended every 10,000 to 20,000 miles in order to preserve your safety during the time you spend inside. We look forward to hearing from you and to help you learn more about when you should schedule your alignment.
Signs that You Need an Alignment
There are a few clear signs that you should be scheduling an appointment for a wheel alignment. If you can pull or drift to one side when you aren't holding onto the wheel, or if you notice that your tires are wearing down very quickly, it might be time for you to get your alignment done.
Contact Our Team to Learn More About Wheel Alignments
Our Honda service technicians are here to make sure you can always feel confident while you are behind the wheel, allowing you to get the most enjoyment whenever you are driving. This enjoyment comes from knowing you can always trust your vehicle, and we want to make it clear that you should choose our team for any of the work that you might need.