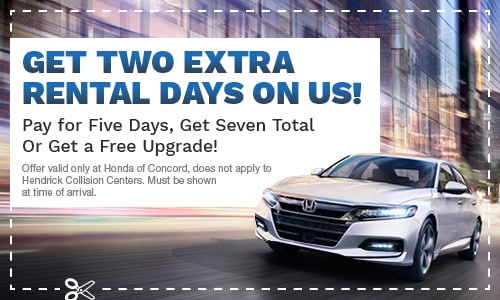 Why rent from Honda Of Concord?
Whether you need a vehicle for business, have your current car in the shop or you're headed out of town for a vacation, Honda Of Concord has the perfect rental vehicle to fit your needs! Honda Of Concord offers a large selection of Honda Cars, SUVs and Minivans with low daily pricing options!
Looking to purchase a new vehicle? TRY IT BEFORE YOU BUY IT!
Considering purchasing a new vehicle? Exclusively at Honda Of Concord, Try it before you buy it! We understand buying a new vehicle is a big decision, so this the perfect way to make sure you choose the perfect Honda to fit your life. If you decide to purchase a new vehicle after your rental, we will put your rental price* toward your new vehicle! 
*Maximum Amount: $500