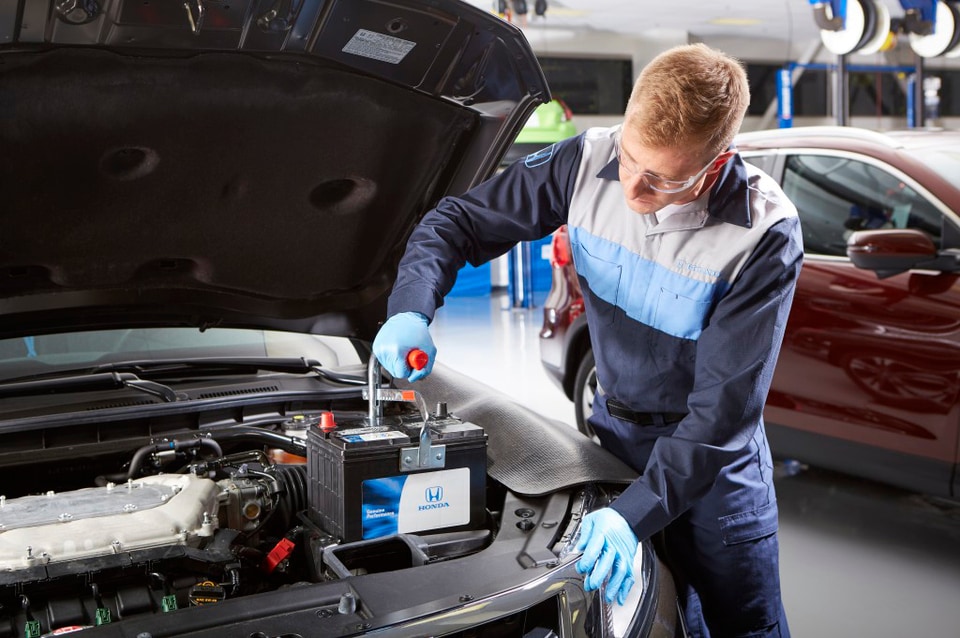 Honda of Concord Wants to Help with Your Honda Battery
Car batteries are an essential part of your Honda, and our service team will ensure your battery can always perform its best. We'll help you determine if there's a problem with your battery and replace it when needed. There is no good time to be stranded with a dead battery, and our team will do everything we can to ensure it doesn't happen to you. Be sure to reach out to our team soon to learn more about Honda battery inspections and replacements.
We are dedicated to keeping you confident in the driver's seat, and a battery you can rely on is the first step in that process.
Honda Battery FAQs
When Should I Get my Battery Inspected?
You can do a visual inspection of the battery at any time to see if it needs a professional inspection. If it has bumps, welts, bulges, cracks, or other deformities, you should contact our Honda service center. Corrosion around the battery is also a clear sign that your battery is nearing the end of its life. Older batteries are more likely to die, which is why we encourage you to schedule your routine maintenance at the recommended intervals.
What is the Lifespan of My Battery?
The average lifespan of a battery is approximately between two and five years. We check your battery during routine service appointments to ensure yours isn't deteriorating faster. Still, we pay special attention when you are nearing what could be the end of its lifespan. You should check the physical condition of your battery more once it reaches this range to see if it's time to replace your battery.
How Can I Tell When My Battery is Dying?
If your lights seem dimmer, the car takes longer to turn on, or the check engine light comes on, it could mean your battery is on its way out. Bringing your vehicle to our Concord service center lets us see if your problem is related to your battery.
What Do We Do During a Battery Inspection?
We do a visual inspection to see if there are any signs of damage, and then check its charge to see if it is putting out the proper amount of power. We'll offer advice based on the results and help you decide if a new battery is the best course of action.
Always Trust the Vehicle You're Driving
Every Honda car, truck, and SUV is dependable, but certain parts of a vehicle have a limited lifespan. The battery is one of many parts we check during routine inspections and maintenance to ensure you are never stuck with a dead or dying battery. We encourage you to reach out to our team with any questions about the condition of your Honda battery.
Have Questions About Honda Batteries or Services? Contact Our Team for Answers!
Honda of Concord has a team of trained service technicians that keep your vehicle running its best. Whether you have questions about your battery or other service appointments including brake repair, tire rotations and oil changes, our team can provide the information you need. With a team that knows every inch of popular Honda models like the Honda Ridgeline, Honda Passport, Honda Civic, and Honda Accord, we look forward to hearing from you soon!
Scheduling your service can be done online if you don't want to call or visit our dealership. We want it to be as easy as possible to keep your vehicle ready for any drive. Scheduling your appointment with Honda of Concord helps you trust your vehicle throughout your time of ownership.
Make an Inquiry
* Indicates a required field
Hours
Monday

9:00 AM - 8:00 PM

Tuesday

9:00 AM - 8:00 PM

Wednesday

9:00 AM - 8:00 PM

Thursday

9:00 AM - 8:00 PM

Friday

9:00 AM - 8:00 PM

Saturday

9:00 AM - 8:00 PM

Sunday

12:00 PM - 6:00 PM