| | |
| --- | --- |
| | |
|  Honda CR-V | Toyota RAV4 |
A Direct Comparison to Help Drivers Choose Between the 2023 Honda CR-V and 2022 Toyota RAV4
Compact SUVs are a popular option for many drivers, and our team will work with you to see which is the right choice for your Concord driveway. Our experts have drawn a head-to-head comparison between some of the top models in the class, showing you the features and specs of the 2023 Honda CR-V and the 2022 Toyota RAV4. Each brand is known for dependable and exciting vehicles, but only one will find its way to your driveway.
The 2023 Honda CR-V is newly updated with a bigger body and sportier design. The interior follows the same design cues as the body, ensuring you stay smiling whenever you see it. Being larger than outgoing model years lets it offer more interior space to keep your passengers comfortable without needing to stack gear around them.
The 2022 Toyota RAV4 also embodies the main benefits of a compact SUV, but that doesn't distinguish it from the 2023 Honda CR-V. It has bold and rugged features to accentuate the traits that some drivers are looking for, making it easy to see how it can be near the top of the list for many shoppers. We'll show you the similarities and differences between these models to help you decide which is the right one for your lifestyle.
Our experts looked through many websites to find the most relevant information to compare each model. Some drivers might find the research stage stressful, so we're happy to offer a simple way to find the information they might need.
We encourage you to read through our comparison and contact our team to learn more about buying a compact SUV that matches your preferences. We're happy to show you the features and specs of the 2023 Honda CR-V and 2022 Toyota RAV4 to make it easier to decide which suits your needs.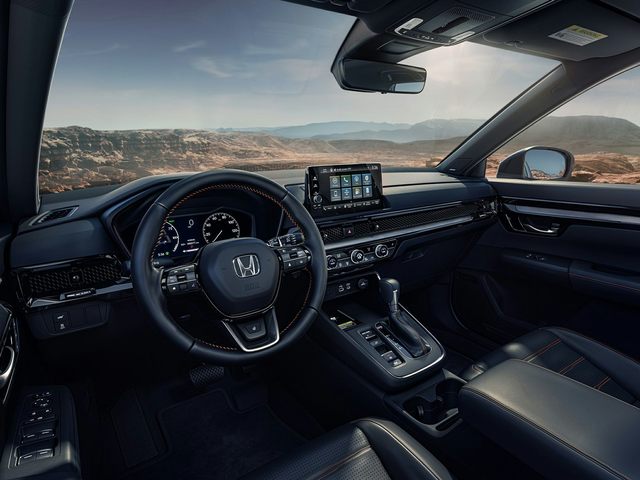 2023 Honda CR-V vs 2022 Toyota RAV4
There's more passenger space in the 2023 Honda CR-V than the 2022 Toyota RAV4, ensuring everyone who gets inside won't feel cramped.
The 2023 Honda CR-V is equipped with a CVT, while the 2022 Toyota RAV4 comes with an eight-speed automatic transmission.
You need to upgrade the 2022 Toyota RAV4 if you want dual-zone automatic climate control, but the 2023 Honda CR-V makes it a standard feature.
Both models come equipped with Apple CarPlay® and Android Auto™ on their base trim, allowing you to listen to your favorite songs wherever you go.
You'll have more room for your gear in the 2023 Honda CR-V than the 2022 RAV4, making it a better choice whenever you need to prioritize gear or need a better balance between passengers and cargo.
A standard Active Grille Shutter adjusts to improve aerodynamics on the 2023 Honda CR-V, but you need to upgrade the 2022 Toyota RAV4 for the same feature.
A One-Touch Power Moonroof with Tilt Feature is standard for the 2023 Honda CR-V, which the 2022 Toyota RAV4 can only have once it is upgraded.
Both models come with many standard safety features to keep you confident through even the heaviest traffic during your errand, commute, and road trip.
Heated outside mirrors are standard on the 2023 Honda CR-V, which are only in a package for the base trim of the 2022 RAV4 and standard once you upgrade trim levels.
You'll get ambient interior lighting standard for the 2023 Honda CR-V, another feature that the 2022 Toyota RAV4 doesn't have standard on its base trim.