3 Days Left to Enter to Win Tickets to the BROTHERS OF THE SUN TOUR
To continue the education about the musicians involved in the Brothers of the Sun tour, we have some interesting FACTS to share about the tour: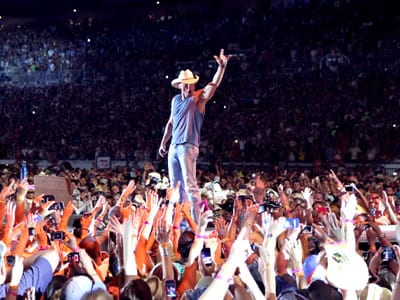 The 283-member tour crew will be fed by a traveling catering staff that will serve three hot meals a day.
Almost 3,200 meals will be prepared for the tour in the five days surrounding the opening show in Tampa.
Show day also includes the "Stage Bar & Grill," which serves hamburgers and hot dogs on stage from 10 am until 9 pm.
Grill chefs include the stage manager, truck drivers and members of Chesney's band.
Over the course of the tour, more than 50,000 bottles of water will be consumed by the full production team, with the bottles recycled by the end of the tour.
Having stadium shows on both Saturdays and Sundays requires two teams to build and tear down the massive staging -- from start to finish, each team will spend 91 hours at each stadium.
Staging for both Kenny and Tim's set includes an LED video wall with nearly 2,400,000 pixels for sharpness and clarity.
Lighting for Kenny's set includes 80 strobes and 48 Syncrolites that are placed throughout the stadium to send five foot diameter beams of light criss-crossing the night sky.
The
Brothers of the Sun
tour will wrap on August 25th with the second of two shows at Gillette Stadium in Foxboro, Massachusetts.
http://www.kikn.com/music/music-news/62210-kenny-chesney-tim-mcgraw-break-down-brothers-of-the-sun-tour.html